Welcome!

Welcome to New York City Promotional Products!

Proudly serving NYC since 1999!

We are recognized as one of North America's leaders in the art and science of getting your company noticed. Let our team of experts be your guide in selecting the perfect promotional product this time and every time.

In today's business world, it's hard to get noticed. This is why many companies will use promotional products to get their name in front of their target audience. The important thing when advertising in this manner is to make sure that you are advertising in such a way which will leave an impression with those you are looking to reach. There are a few different ways in which you can do this. Below you will find ten different suggestions as ways in which you can market your brand in order to get the most out of your marketing dollar.

1)Target an Event - Your target demographic has certain likes and dislike you should already have identified. There are different events which will represent these interests. It is in your best interest to make sure that you are at these events with promotional products which are relevant to the event.

2)Sponsor an Event - The only thing better than giving away free promotional items at an event is if your company is the one to sponsor it. This way your company will be the only one in attendance. Your name will be on the tickets and it will be on the t-shirts people buy. You can still give away products at the gate which will serve as a reminder of who made the event possible for them to enjoy.

3)Use a Crazy Giveaway - If you are at a live event and you can get on stage, do so. Ask the audience who wants some free shirts. They will get excited and cheer to receive your promotional products. This is your chance to get people in the crowd to do something really silly or crazy to get the shirt. This will make the shirt stand out for the person who did the silly act as well as anyone else in the crowd who got one.

4)Use Quality - One thing most everyone is expecting when they get something for free is that it will be cheaply made and it will not last. Surprise them by using a brand name. The longer the item lasts, the more impressed they will be with the product and with your service.

5)Target a Location - There are different locations which your demographic will frequent. You can set up a deal with the location to give away some of your promotional products to those who stop by. This way your brand will be associated with something that they already enjoy. When they look at or use the product, they will think about your brand.

6)Make it Last - The longer people hold on to the products you give out, the longer you will stay fresh in their mind. Consider something like giving out backpacks at a school campus or visors at a golfing event. This is important because you have a much better chance of the people actually using the product rather than trashing it or giving it to a friend.

7)Make it Interesting - Another great way promotional products can be used to captivate is to make them as interesting as possible. Include such things as giving away puzzles or games to a crowd which will enjoy such products. As they spend time working out the puzzle or game they will see your brand.

8)Start a Trend - While many companies are giving away magnets, not many are giving away magnets which have a digital image embedded in them. This is a time to be creative and come up with something which is totally unique which the rest of the industry will want to follow so that they will enjoy the same brand recognition you do.

9)Get a Celebrity Endorsement - While most companies are looking for a celebrity endorsement for any product, it is important your promotional products include a celebrity which is relevant to the likes of your core demographic. If they like motocross, you should get a big name in the industry to lend their name.

10)Help People Out - Another great way you can make a name for yourself by handing out free stuff is to hand it out in a time of need. Things like umbrellas with your name on it will make a big difference to those caught in a heavy storm or a hurricane. The more severe the event, the more they will remember your kindness.

To search for product, please click on one of the categories to the left, or get in touch with us today. We would be happy to help!
Featured Item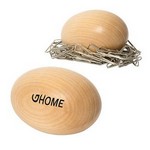 Magnetic Keep'em Egg
1.75" W x 2.5" H x 1.75" D - Maple Wood - Includes 50 paper clips that magnetically attach to the egg - When placed on your desk it looks like an egg sitting in a nest - A cute and whimsical promotion...